Tres Sabores 2018 Ancient Vine Carignane
130 Year Old Vines Contra Costa | Mendocino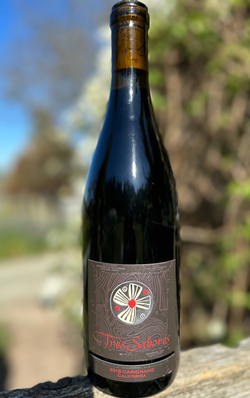 This gives the fruit tremendous intensity and
depth, backed by lightning-rod acidity. The Cemetery vineyard, planted 1954, is
dry-farmed in almost pure gravel, and contributes bright cherry fruit and
aromatic lift.
The resultant wine features vivacious blackberry and raspberry aromas inflected withan iron-like mineral complexity. Carignane has an intensely savory edge to its fruit: stones, smoke, and celery seeds, evoking the wild herbs and rocks of itshomeland in the Priorat of Spain.
Mendocino old vine and historic Cemetery Vineyard and Contra Costa's Legendary evangelho where 130 year old vines are planted on an ancient alluvial sandbar
Product Reviews