2019 Olet'te "English Hill" Pinot Noir Sonoma Coast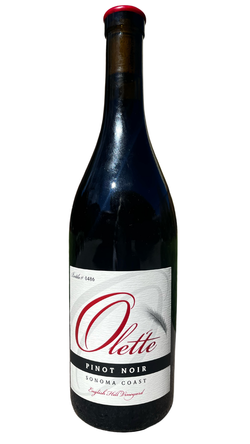 94 Olet'te 2019 English Hill Vineyard Pinot Noir (Sonoma Coast). Rich in dark plums and a dusky, balsam perfume, this luscious, velvety wine spent extra time maturing in the barrel and is totally seductive. A broad, generous and concentrated mélange of sour cherries, black tea and black cherries handsomely fills out the ample frame of soft acidity and mild tannins. —J.G.
English Hill Vineyard is located nine miles from the Pacific Ocean and is the epitome of a true Sonoma Coast vineyard. At an elevation of 650 feet above sea level, the canopy is engulfed with marine fog in the morning and bashed by steady afternoon wind. The vines struggle to keep their roots in the sandy-loam soils. Equal parts of Dijon 667, along with a selection of Vosne Romanee, rounds out the blend for our 2019 English Hill Vineyard Pinot Noir.
Also known as the "suitcase clone," the pinot noir clone Vosne-Romanne originated from the most famous Grand Cru vineyard in the world – Domaine del la Romanee-Conti (DRC). It is referred to as a "suitcase clone" because it is believed that Josh Jensen (founder of Calera Winery) brought these clones from the DRC vineyard to his nursery in California in the 70's after working a harvest at the Domaine (Winery).
In 2018, a bottle of 1945 Romanée-Conti Grand Cru sold at a Sotheby's auction for a record-setting $558,000, making it the most expensive bottle of wine ever purchased in the world.
To say there is something extra special about English Hill Vineyard would be an understatement. The Olet'te 2019 English Hill Sonoma Coast Pinot Noir is a showstopper. In the glass, the rarest and most haunting perfume of violets follow intoxicating aromas of vanilla, dark rose petal, savory maple bacon, and fresh cut grass. More black cherry and black raspberry in this harmonious, mid-weight wine that exhibits an elegant and lengthy finish. Plenty of baking spice, port cranberry sauce, and candied cherry on the palate with reserved, velvety tannins.
Product Reviews