2019 Majuscule Conn Valley Cabernet Franc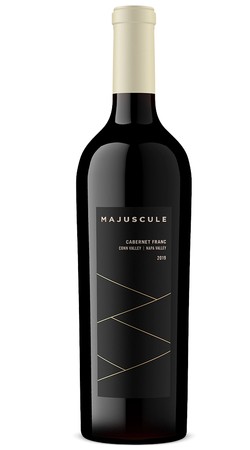 Deep ruby in color with a hint of purple, this elegant Cab Franc has pronounced aromas of black raspberry, blueberry and wilted roses. Medium to full-bodied, the lush palate reveals a myriad of red and black fruit layers and a hint of chocolate, all with a chewy frame and long perfumed finish that is seemingly endless.
98% Cab Franc sourced from a single vineyard in Napa's Conn Valley located in the western foothills of Howell Mountain near St. Helena. Conn Valley benefits from mountain-influenced cool nights and warm days making for late-season ripening and good acidity. Topped with 2% Cabernet Sauvignon to round out the finish.
Product Reviews
Jim
(Feb 4, 2022 at 10:30 AM)
When it comes to Napa reds, you won't find a better value for the quality than Majuscule. We had the 2019 Cab Franc shortly after bottling and it was ready to go. Structured with dark fruits and smooth tannins. This is a delicious wine!
Victoria Spencer
(Feb 5, 2022 at 12:42 PM)
This Cab Franc is a chart topper. Best in class of the Napa Valley. Gorgeous vibrant dark fruits reaching every corner of the palate. Incredibly approachable right now. Every sip leaves you wanting more. Grab as much of this as you can. It's a guaranteed staple in the collection.
Leann Swanson
(Feb 6, 2022 at 5:36 PM)
I can't say enough about this wine! It is so smooth and easy to drink. I had it tonight with a vegan lasagna and it was fantastic. This is such a versatile food wine, you can't go wrong. It is delicious. If you are looking for a unique red wine blend then you must try this wine!