2018 Hendry Primitivo Napa Valley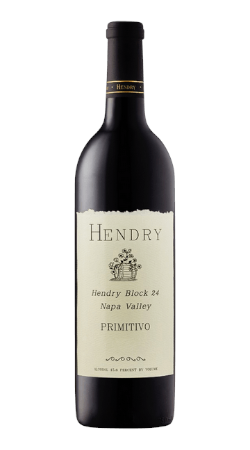 Sorry we are out of stock
Hendry Block 24 is located on bench lands west of the town of Napa. This 1.96-acre block is approximately 200 feet above sea level and has thin, stony Boomer series soils (material weathered from metavolcanic rock). The maritime climate is moderated by morning fog and strong afternoon breezes from San Pablo Bay. The vines in Block 24 were planted in 1997, using St. George roots, and grafted with U.C. Davis Primitivo Clone 3.
Primitivo may be a "new" variety to many, but its roots go back hundreds of years to Croatia, where it originated, along with its more familiar genetic twin: Zinfandel. Zinfandel and Primitivo share common parentage, and are essentially synonymous, though Primitivo is associated with Puglia, Italy, where it is commonly grown, and Zinfandel with California.
Medium ruby-purple color. Aromas of cherry, berry, violets and warm spices. Full, black cherry and berry fruit, offset by bright acid and very gentle, fine-grained tannins. Light-to-medium bodied. Very easy drinking, moderate mid-palate depth. Blackberry flavors linger on the finish. An easy-going, fruit focused wine that will pair well with pizzas, pastas and a wide range of cheeses and charcuterie.
Product Reviews
Dan Dawson
(Mar 2, 2022 at 9:25 PM)
Smells fresh and perky, like fresh raspberries in balsamic vinegar. I think of blueberries and plums as I drink. Again I think perky as the wine's acidity lifts up the tasty flavors. Sort of spicy (black pepper) and herbal (dried oregano maybe?). It all works together. Good drinking in all sorts of situations. You can catch me drinking a glass with a slice or two of sausage & mushroom pizza.