2017 Cufflinks Napa Valley BORDEAUX Blend
HOWELL MOUNTAIN AVA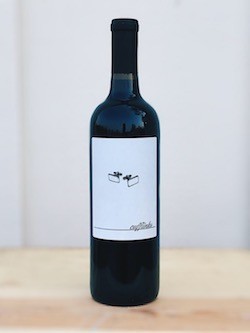 Sorry we are out of stock
In the aromatics, you will find sweet vanilla reminiscent of pie crust followed by deep dark cherry notes. There are flavors of a Chambord or raspberry liqueur lingering as well behind the vanillan. There are some nice floral notes that lift in the mid aromas. The sweetness of the fruit also adds to a roundness or velvety quality in the texture.

Wine Profile
Vineyard Notes
50% Oakville, 50% Atlas Peak
Production Notes
The barrels we purchased were cut from wines that would have sold for $50, $90 and even $150. We would never have had access to these barrels without our 25 year Friendships with our winemakers. We are very choosy and fortunate who we have been able to buy finished wine and make some blending choices to make it our style of wine.
Food Pairing Notes
Grilled ribeye with black pepper or rosemary and compound butter, or a mushroom demi-glace would be a first choice. I would not say no to the Cufflinks with some herb-crusted grilled lamb chops either. Let me know which is a better pairing.
Other Notes
We were excited to keep the Cufflinks, a 100% Cabernet. We feel that the blend of the mountain vineyard on Atlas Peak offers some acidity and structure to the beautiful notes from that Oakville Vineyard.
Product Reviews
Ralls
(May 7, 2020 at 12:51 PM)
Gave this as a present to a wine snob and she absolutely loved it! Enjoyed it with a rack of lamb dinner - then happily extended to a Zoom happy hour. Must have been a good harvest for cab.
Anton
(May 7, 2020 at 1:18 PM)
Cufflinks is an under the radar but outstanding wine brand. I've only had their 2013 and now this 2016 but this is a seriously eye-opening version of Napa Cabernet. It's very old-school, with dusty tannins, juicy but not overly concentrated red-black fruit, and nicely balanced acidity through the finish. Definitely a cellar-worthy wine. It frankly drinks like a wine that could've been made 30 years ago in the valley. Highest recommendation.
Ambra Kuty
(May 7, 2020 at 7:03 PM)
An on point Napa Cabernet certain to delight the senses. Immense dark cherry fruit and a silky to die for mouth-feel, makes this one worth every penny.
Di Slay
(May 7, 2020 at 8:34 PM)
One of my VERY FAVORITES!
Mike
(May 14, 2020 at 7:35 AM)
Can't say enough good things about this wine -especially at this price. I intend to stock up on a few for the cellar, and give 1-2 away as presents to the snobbiest wine snobs I know, and enjoy the rest with a grilled ribeye. Superb!