2016 Hendry Napa Valley Cabernet Sauvignon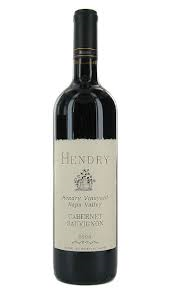 This is a classic Cabernet Sauvignon from one of the best vintages in Napa Valley history. Not to mention these vines produce less than 2 tons per acre, which makes this a full bodied, concentrated, style of Cabernet Sauvignon. Our current vintage sings of chocolate-covered cherries, warm plums, cassis and candied violets. This bombshell received 93+ points from Robert Parker Jr.
Wine Specs
Varietal
Cabernet Sauvignon
Product Reviews
Ross
(Dec 20, 2013 at 8:00 AM)
This is a wonderful bottle of wine. The Hendry family is a very cool Napa story and if you ever have the chance you should tour your their winery. George Hendry gives a very educational perspective on the history of his wine.
Bill
(Dec 22, 2013 at 12:01 PM)
Another typically good and consistent wine from Hendry. I prefer their Zins, but this Cab is pretty tasty! Their Pinot Noir is very good, as is their Red and Chardonnay. A tour of the winery should be on every Hendry fan's list.
Travis
(Dec 22, 2013 at 2:57 PM)
Hendry wines are in my opinion the most consitent, well done wines available for the price. This cab is well worth the price, I pay full price for it on a fairly consistent basis.
Jeff Bieber
(Jan 28, 2014 at 3:38 PM)
Great Cab! I love it.