July 15, 2013 | JD DANIEL
Wines that make you go hmmmmm… and then yummmmm!
Wines that make you go hmmmmm… and then yummmmm!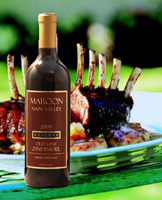 Do you ever have a wine varietal which you just can't seem to find much within the bottle that you enjoy? Tasting with other wine professionals and novices alike I think everyone has at least one. I feel that it is important to see a wine for what it is and what the winery or winemaker is trying to achieve with each individual style, but that doesn't mean that I will like it. However, for me, the one varietal that I can't seem to pallet has been Zinfandel. The alcohols can seem intrusive up in to the 16% level. The wines have so much juicy extraction with flavors of prunes, and sweet baked fruit. For this reason when I was given my Zinfandel assignment I held off for as long as possible. On the upside I did see that the bottle was from Maroon Winery and I have always appreciated the classic nature of their Chardonnay and Cabernet Sauvignon. I thought to myself, would this Reserve Old Vine Zin be one that I can truly enjoy and welcome with open arms? To my pleasant surprise the alcohol was in check at a modest 14.5%, the color was gleaming and translucent, and the nose had a pleasant balance of toasty oak and dark briery fruit.
After all the time I have spent knocking Zinfandel, maybe I have not given this wine enough promise as of late. This wine was impressive in balance that boasts nice acidity and a more refined complex flavors then the other versions I tried in the past. The wine had great finesse and led to an evening of rack of lamb, which I believed would be the perfect pairing. Wow! Not kidding, when you order this wine venture down to the local butcher and grab a rack… of Lamb. I make a relatively simple lamb especially when the butcher French cuts the lamb. Just rub it with salt and pepper, pan sear it browning each side, then rub it with minced garlic and Dijon mustard, put it in the oven for about 12 – 15 minutes at 450 degrees and then eat delicious medium rare lamb. Serve with a little caramelized onion chutney and a glass (or bottle) of Maroon Reserve Old Vine Zinfandel for full enjoyment.
I had given up on Zin and this was my own fault, as I gave up too soon. I probably have tried less than ten Zinfandel over the past 7 years and this mainly coming from my naive youth in the wine industry. I was trying what could be seen as the wrong zins as many were from those main stream brands and not these lesser known, small production, and handcrafted wineries. Not only will I give Zinfandel another chance, but maybe I will try to get over my paranoia of Viogner as well. So thank you Maroon for opening my eyes.