January 20, 2010 | JD DANIEL
A Taste of Loire… In the Napa Valley?
Yes, while we drink and live California wines on a daily basis, It is good to respect and venture to regions of different climate and terrior. Today we explored the world of Chenin Blanc from the Loire Valley, which many consider the most versatile grape. The comparisons to that which I have had from California and Washington State are like day and night. How can one varietal taste so different? Well first it is important to look at where the wines come from and the different soils and climates.
The Loire Valley Sits to the South of Paris and stretches west to the port city of Nantes along the Atlantic Ocean. Many rivers run through the Loire giving a range in soil conditions from rich metamorphic soils to calcareous limestone and river bed soils. This gives the Loire a wide range in flavors from richer rounder wines to zingy zesty minerally wines. With Loire River being the longest river in France it yields many micro-climates. Splitting into other tributaries, such as the Maine, Nièvre, & Erdre on the left-bank and Allier, Cher, Indre, Vienne, & Sèvre Nantaise on the right bank, adds finger-like cooling influences to the north and south Loire Valley. Due to all these factors, winemakers of Loire have styles of Chenin Blanc ranging from bone-dry Sparkling wines to Botrytis dessert wines.
We explored five wines from Loire encompassing two distinguishing different soil compositions. We tasted three wines from Touraine, a more inland region of Loire located just east of Tours. Touraine sits with the Loire River to the North and the Cher River to the South and has Tuffeau soils, a relative to Limestone. The remaining two wines are from Anjou, a coastal region between Nantes and Angers. Anjou sits on both the north and south banks of the Loire River intersecting at the Maine River and has Schist soils, which is the same as metamorphic.
Since Loire wines tend to range from Bone dry to sweet, we tasted wines which were Sec and Savennières being more austere, bone-dry wines with intense minerality and also tasted Demi-Sec and Doux which have more honey and botrytis notes with tart citrus and minerality. Wow what a day, I had waited for this tasting all week, and finally it was here.
The wines: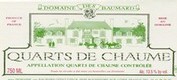 Touraine
1. Olivier Deletang Montlouis-sur-Loire "Les Batisses" Sec 2007 $14.40/bottle
- Fresh notes of juicy pear, jolly rancher tart green apple, developing into star-fruit. Opening up to little hints of SO2, and rounding off with a pronounced minerality of wet-stone.
2. Francois Pinon Vouvray "Cuvée Tradition" Demi-Sec 2007 $18.90/bottle
- Grandma's newly baked apple pie hints at a little baking yeast with undertones of dried hay or straw. An aspect of caramel and honey dazzle the palate ending in a floral note of orange blossom.
3. Olivier Deletang Montouis-sur-Loire "Les Batisses" Demi-Sec 2007 $17.10/bottle
- Notes of Limon-Lime start leading into tree fruits. This wine is "Driving Miss Daisy" and all over the road and palate. It now leads to dried fig and river-rock with a lush velvety finish.
Anjou
4. Domaine Des Baumard Savennières 2005 $20.70/bottle
- Hay and cut grass start this wine into a fire of burnt toast. A chemical aspect, which smells like Mom's hair dye, takes over. As the wine opens it shows some bruised and dried tree fruit and leans towards to creamy almost leesy finish.
5. Domaine Des Baumard Quarts de Chaume 2004 $63.00/bottle
- This Botrytis dessert wine opens with freshly made apple sauce & baked pear. Additions on vanilla extract, honeycomb, & butterscotch give this wine the elegance of a full length botrytis feature, creating a wine that is delicately sweet without being cloying.
Which is my favorite? Well that is a good question, with these wines being so different stylistically it is hard to choose. I tend to like wines with more lean and austere flavors, which fit the descriptor of the Oliver Deletang "Les Batisses" Sec 2007. I took home a few bottles that evening and opened the Sec up with a grilled chicken salad. This wine is perfect for almost any occasion and over-achieves in value given the price.
Who in Napa does these out-of-the-ordinary import tastings? Back Room Wines (www.backroomwines.com), which has weekly tastings most of which take us out of our normal routine and put us in another region. It takes us out of our element, and gets us to refresh or educate our pallets with different regions. They also sell me on probably too many imports, but hey, it gives us something different to share with friends.
I find that if you drink too much of a particular wine you start to develop a "house pallet". It is hard to break this routine, especially when you are showing the same wines and/or varietals 5 – 7 days a week to different restaurateurs and retailers. Trust me, I love my domestic Pinot Noir, but there is more out there and it is good to keep an open mind. Some people say variety is the spice of life and with wine I find this statement true.