December 18, 2010 | JD DANIEL
Chattin about Kaz, Sonoma, Just Bekaz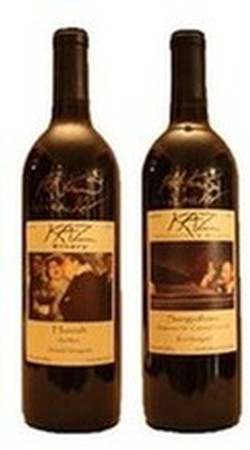 Chit-Chatin' about Kaz Just Bekaz!

On a misty December morning I drove through beautiful Sonoma to a quiet little two lane road in Kenwood. You have to drive slowly or you could possibly miss the gravel driveway that will lead you to the adventures that await at Kaz Vineyard and Winery. The Vineyards are mostly dormant now, but the mood inside the barn where Kaz pours his wine is anything but latent. Kaz met me at the sliding barnwood door of his tasting room with a friendly smile and a very warm hello.
Richard Kasmier a.k.a "Kaz"and his wife Sandi purchased the 2 acre property in Kenwood about 19 years ago and they opened their tasting room in 2003. Kaz has a BIG personality but he was and is still one of the smallest producers in Sonoma that has a tasting room.
Beyond his winemaking talents, Kaz is also a very accomplished photographer and he is making his labels out of vintage family photographs. Every bottle tells a story and Kaz is one of the best story tellers I have ever met. This winery is full of charm and darn good wine.
We tasted through all of his current releases and even the Ports that Kaz makes. He is an Old- School kind of guy and I was taken aback at how fun and non-serious he is. He steers away from all things commercial which makes Kaz Vineyard and Winery so unique. You can taste out of barrel and try austere varietals and blends like Lenoir, Malbec and Barbera. My highlights from our tasting was the 2007 Huzzah Rhone blend and the 2007 SangioFranc (Sangio / Cab Fran Blend) I also loved his Chardonnay port and thought it would be an excellent wine to have around the house for all of the family holiday gatherings we will need to get through!
This winery is a must see in the heart of Sonoma Valley. Kaz Vineyard and Winery also has a beautiful picnic area in the back so pack a light lunch and come enjoy a pleasant afternoon with our favorite Sonoma wine country Character KAAAAAZ!