January 18, 2010 | JD DANIEL
Sunday's Pairing – Champagne and Chicken Wings!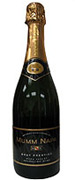 From a man's perspective this is one of the most exciting parts of the year. You have the NFL playoffs climaxing to the Super Bowl in a couple of weeks, March Madness is just around the corner, and pitchers and catchers report to Spring Training starting on February 17th. With all this excitement in the sports world, this is normally the time of year that I take the deep fryer off the shelf and it finds a vacation spot on the kitchen counter. Sometimes it takes until the Super Bowl to get this going, but this year it started a little early, as in this past weekend.
It started as a normal Saturday, a cup of coffee, list of errands, the Dog wanting to play, but this Saturday was going to be different with what seemed to be two very exciting NFL games on the TV. I was dedicated to getting my list of chores done early. So here was the ever exciting list: Go to the Dry Cleaners, Post Office, Grocery, and then my favorite stop of the day, Mumm Napa Valley. If you join the Mumm Wine Club, and you choose the pick-up at Mumm option, you will soon find out that they are very persistent with phone calls and letters letting you know your wines are ready. Of course, the pursuance might stem from the fact that I usually have around 6 months of shipments by the time I make it up that way. Congratulations, you are on the Mumm naughty list!!!
Anyway, back to the subject at hand – Champagne and Chicken Wings. Saturday would not prove itself as exciting as the day was perceived. The football games were blow-outs and since the wife was out-of-town no Champagne was opened. However, on a side note I did make some killer empanadas for a friend's b-day party. This, of course, marked the deep-fryer out of retirement playoff opener, like the great #4, Brett Favre. The wife would return home later that evening to the fabulously sweet aromas of Duck Fat, and at this point she knew there was no return. The fryer was out and there was going to be a great surprise for Sunday football! Oh, and the surprise was about 3 pounds of wings and a case of bubbles from the previous day.
I was so excited; I pondered how I had made it through the whole regular season without wings? The idea of chicken wings gave me hope that the Sunday games were going to be more entertaining. Normally Sunday football calls for wings and beer, but given the circumstance of having all this sparkling wine, I reminisced of an event a few years earlier down in Texas. It was after a long day of selling Pinot Noir down in Austin. I want to say it was in September and a day that was stifling hot. I went with one of our wine reps to Stubbs restaurant and he convinced me that anything cold with bubbles would pair with BBQ. We ordered up a bottle of Shramsberg Blanc de Blanc and shared our opinions with others around us, and many were so surprised that we possibly came up with the perfect pairing. After my day-dream of BBQ and Schramsberg was over, I thought lets give hot-wings and bubbles a try!
We popped open a Mumm Brut Prestige and found that the dryness and acidity really cut into the spice of the wings quite well. While the football games still lacked that exciting edge we had anticipated, we found that with enough wings and sparkling any day can live up to expectations. The moral of the story; There is a wine out there for every occasion. Sometimes pairings do not reach expectations, but it is about enjoying wines and trying new experiences with family and friends. Do not hesitate to venture outside the realms of normal pairings, throw out those old wine pairing rule books, and just drink wines you like with foods you like!