April 25, 2018 | Adrienne Reiter
Your Mother's Day Pairing - What Kind of Mom Are You?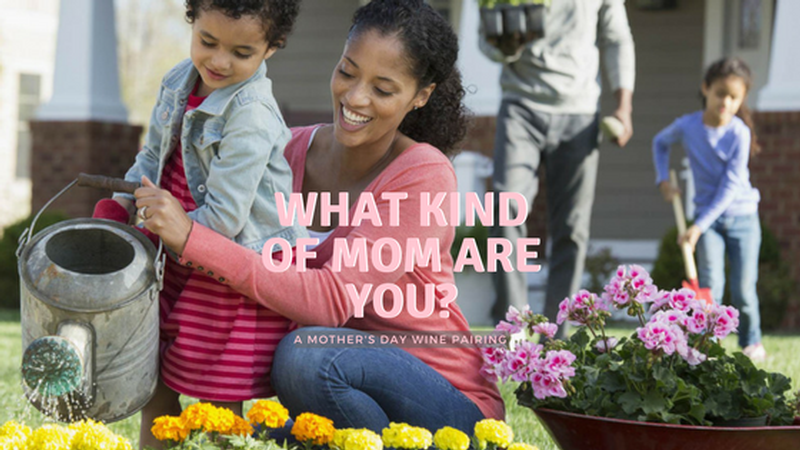 Happy Mother's Day! Yup, it's here. Need a last minute gift idea for the woman who gave you life? Look below and ask yourself, "What kind of mother is that special lady?" Are you a mother looking to treat yourself just in case your gifts are only fridge door worthy, but you need something to chill inside ready to drink with dinner? The packages below will help guide you.
The Adventure Mom When your kids argue over who gets the last cookie in the box or whose turn it is to control the T.V. remote do you jokingly suggest they fight it out to the death? When snack time comes around and you don't want to waste veggies on a Saturday you bought last Monday, can you make 'everything but the kitchen sink' frittatas? Do they actually turn out good? Is your perfect wind down date rock climbing with a bottle of wine in your backpack pre-chilled and ready to be corked at the top? You're an adventure mom, and we have the perfect package for you! Kids, don't pass up this limited offer. A monthly subscription to Gold-90 Wine Club Reds & Whites Club $59.99 per month.
The Classy Mom Want to appease her refined tastes? Butter the Classy Mom up with our best-selling Chardonnay two bottle pack, kids! Are you the kind of mother who rarely yells in public, but a simple raise of your eyebrow lets everyone knows you mean business? If you stay busy keeping up with of fashion week, local politics, and what new hip restaurants came to town you are a Classy Mom. Treat yourself at home with a two bottle pack of Frank Family Chardonnay Napa Valley. Kids, with a gift card and gift bag this package is now $69. Not only is it an amazing value, she can be proud bring these to share at her next book club.
The Powerhouse Mom There you go again. Spinning plates in the air while juggling with your feet. That's you! Kids, do your mom's normal day include training for her next race, meeting deadlines at the office, then making Instagram videos to show how to drink wine and do push-ups at the same time? A monthly subscription to Gold 90 Reds Only Wine Club at $79.99 per month is for her.
The Bubbly, Perky Mom Strala 2015 BRUT ROSÉ $49 Includes a personalized Mother's Day card and gift bottle bag. $69
One of the smallest productions of sparkling to come out of Napa Valley. This dry Brut Rosé sparkling wine has a lively, pink salmon hue and offers layered aromas of fresh strawberries, cherries, and melons. Ripe Raspberries and a rich, honeyed palate bursts with vivacious bubbles. The wine has a fresh acidity which leads to a bright, vibrant finish.
The Chic Mom You are a lady who likes to entertain and are competitive to boot. You can cook up a five-course spread, put together a list for your next art gallery group, and make sure the young ones are on track academically and with their after school activities all while wearing your favorite pair of Dior pumps. Kids, give her our specialized one of a kind food and culinary experience with the Hendry Red and White Gift Pack with tasting notes, recipes and entertaining ideas at only $64.