May 24, 2018 | Adrienne Reiter
Chardonnay 101
3 Styles of Chardonnay and Where to Find Them
If you're just getting familiar with your Chardonnay, here's what you need to know to be Chardonnay savvy. First, you need to familiarize yourself with the trifecta of styles of Chardonnay. Once you learn the secrets to this grape, you'll be able to find great Chardonnay wines on your own.
Creamy, Oaked Chardonnay: 2016 Keenan Spring Mountain Napa Valley Barrel Fermented Chardonnay $29.99
Citrusy, Crisp, Neutral and UnOAKED Chardonnay: 2016 Hendry Unoaked Napa Valley Chardonnay $24.00
Sparkling Chardonnay 2015 Strala Sparkling Napa Valley
Creamy, Oaked Chardonnay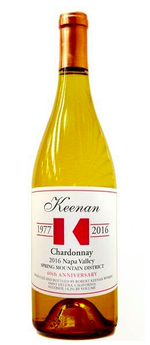 Bolder styles of Chardonnay match wonderfully with bold, creamy dishes like mushroom risotto, lobster bisque and chicken, leek and ham pie.
If you love a more full-bodied white, this is your style. "Keenan's 2016 Chardonnay from Spring Mountain displays plenty of minerality, some citrus oil, and hints of tropical fruit and tangerine. It is medium to full-bodied, has intense flavors, great acid, and a long, clean, pure finish that lasts a good 30+ seconds.
How It's Made and What to Look For
Keenan's 2015 Chardonnay was hand harvested, de-stemmed, then gently pressed. The juice was fermented and aged in French and American oak barrels. The wine was left on the lees and the barrels were stirred weekly. No secondary, or malolactic fermentation was carried out, leading to the crisp, citrus character of this wine. This stunning beauty was bottled only after approximately seven months of aging in the cellar.
When seeking out this style, look for these clues:
Seek out Chardonnay wines that are aged in oak or fermented and aged in oak.
Look for tasting descriptors that imply oak was used, including vanilla, crème brûlée, baked apple, coconut, toasty oak, brioche, butter, cream and butterscotch
Most oaked Chardonnay wines should be consumed within 3–5 years of the vintage, although a few stand-out wines will age well for 10 years.
If you love this style of wine, definitely look into the alternative varieties of Marsanne, Viognier, and Trebbiano. When oaked, these varietals make great alternatives to oaked Chardonnay.
Citrusy, Unoaked Chardonnay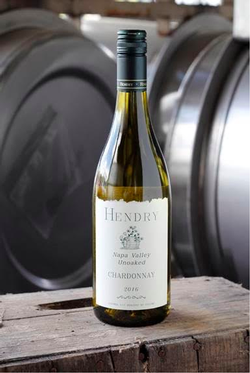 The light, unoaked style of Chardonnay was made popular by the French region of Chablis. This wine matches wonderfully with delicate flaky fish, scallops and oysters and makes a great cooking wine option for Buerre Blanc Sauce
A light straw-yellow color. Bright, fruity initial aromas of cut green and golden apples, with floral undertones. A balanced, light-to-med-bodied white wine, silky entry, soft on the palate, with mouthwatering flavors of golden and Fuji apples. There's also a definite floral quality on the lingering finish. Best lightly chilled, delicious before dinner as an aperitif or with very light and lower-fat foods. It doesn't take much fat to diminish the flavor of this delicate wine. You might try a cold cucumber soup (George's suggestion), a yogurt-based dip with vegetables, or a healthier butternut squash soup without too much fat or cream, focused on the flavors of the squash itself.
How It's Made and What to Look For
At harvest, half of the fruit from these blocks is whole-cluster crushed and fermented entirely in stainless steel at about 50 degrees. It is kept away from exposure to prevent oxidation. These measures help to preserve the fresh fruit flavors of Chardonnay grown in our cool "transitional" climate. It was not allowed to go through malolactic fermentation and remained in stainless steel until bottling with a screw-cap closure
When seeking out this style, look for these clues:
Seek out Chardonnay wines that are not aged in oak.
Look for tasting or label descriptors that indicate no oak including lean, "naked" mineral, fresh, white flowers and citrus blossom.
Most unoaked Chardonnay should be drunk young, although there are several examples (particularly in Chablis) that will age a decade or more.
Sparkling Chardonnay: Blanc de Blancs & Brut Rose
Chardonnay is the most popular white variety used in sparkling wine (including CHAMPAGNE) Blanc de Blancs matches wonderfully with salty fried dishes from calamari to fried chicken. The Chardonnay can also be blended with red varietals like our feature today the Strala 2015 Napa Valley Brut Rose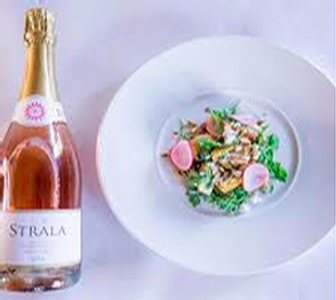 Sparkling wines made with Chardonnay are typically called Blanc de Blancs which means "white of whites" and indicates the color of the grapes used to make the wine. Blanc de Blancs wines range in taste from a richer profile of Meyer lemon, honeycomb, yellow apple, toasted vanilla and hazelnut to a leaner profile of lemon zest, minerals, lime and honeysuckle.
How It's Made and What to Look For
To make a sparkling Chardonnay the grapes are picked a bit earlier to preserve the high acidity. After the wines are made (they are super tart!) the winemaker creates a blend, called a "cuvée", which then undergoes a second fermentation within a Champagne-style bottle. Depending on whether the wines were produced in oak or stainless steel and how long they age after the second fermentation called tirage (pronounced -"tear-ajh") is what finally determines the primary taste profile. The longer the wine ages, the more creamy and nutty it becomes.