July 31, 2013 | JD DANIEL
2007 – California Vintage of the Decade
2007 – California Vintage of the Decade

We often reflect on the course of a year, weather that is personal or business, but often giving the year a rating or a finite review. In wine this is no different; 2007 has been touted as the vintage of the decade in Northern California, leading many consumers and professionals alike seeking this particular vintage for many years to come. The issue; many vintners released these wines and sold through them years ago, leaving the quantity way less than the demand. In my daily activities as a salesperson to the wine wholesale market, I see this first hand. I have a supplier that recently released their 2007 Napa Valley Cabernet Sauvignon and I was fortunate enough to be showing the wine during a sales trip last week. While visiting with many restaurant sommeliers they all shared a common thought, "We have a lack of 2007 Cabernet Sauvignon on our wine list, as many of our patrons will pass over other vintages to drink this sought after vintage. Restaurants that have ample storage and purchased a large supply of this vintage have even sold through the majority of this vintage based on demands.

The Vintage has received rave reviews from the likes of Robert Parker of Wine Advocate (96 Points), Steve Heimoff of Wine Enthusiast (95 Points), & James Laube of Wine Spectator (97 Points). The vintage was also a winemaker's dream with a vintage of not only outstanding quality, but also a decent yield. The year started with an early bud break with no spring rains or frost, which leads to a longer maturation period due to consistent temperatures with no heat spikes. This left the grapes with small clusters of dense concentrated fruit. I have mentioned in previous posts, Great winemakers make great wines in bad vintages, in 2007 the year started with great fruit which is the basis for making great wine. 2007 was the vintage that if you did not make terrific wine then you may have seriously considered firing your vineyard crew or cellar staff. Seriously, it was that difficult to make a subpar wine in '07.

Given all these attributes and demand it is tough to pass on any 2007 Cabernet Sauvignon, as they are drinking well now, but could also be cellared for another 5 – 7 years to reach full potential. This is a wine that I suggest stocking up on as gifts, special occasions, cellaring, and to drink now. The 2007 is ideal for all occasions. While most wineries that have any 2007 Cabernet Sauvignon (mostly are library releases) are raising prices significantly on this vintage, as I have seen most raised 100% from the original release prices, Vinformant.com is offering this 2007 RustRidge Cabernet Sauvignon at a significant 30% discount. This will only be available for a limited time, so stock up now!

RustRidge Winemaker, Kent Rosenblum (Yes, that Kent Rosenblum), "The King of Zinfandel" is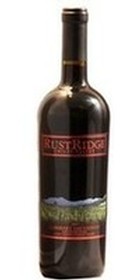 making terrific wines from the wonderful estate vineyards in Chiles Valley. Needless to say, Kent is a world renowned winemaker and a living icon in the wine industry. His 2007 vintage wines have been rated among the best in the world. The 2007 RustRidge Cabernet Sauvignon is no different; the wine shows wonderful restraint and is a great representation of Chiles Valley which is a Northeastern Sub-appellation of the Napa Valley. This is an ideal location to grow Cabernet Sauvignon given the high elevation of the Vaca Mountain range that engulfs the region; this elevation yields to limited top soils and a phenomenally drained mineral laden volcanic base giving the grapes the right amount of stress to produce top notch fruit. The proximity of Lake Hennessy to Chiles Valley also serves to the micro climate; insultating the vineyards during spring time frosts and cooling the vineyards during the peak heat of summer. With the pedigree of this wine from vintage, to winemaker, to appellation this will be a wine not to miss!