Peek inside our wine cellar mix 12 bottles and get an extra 10% off. use code 12CASE at checkout Click here for all products

Keenan

Retail Price $40.00

Feature Price $32.99

The enduring dedication of the Keenan winery staff is the reason for the excellent quality of all of our wines. These close relationships are a foundation for a truly comprehensive knowledge of winemaking and grape growing on Spring Mountain.
Our approach to winemaking is collaborative, and we work in concert with general manager Matt Gardner and cellar master Randy Kewell, both of whom have worked on the Keenan estate since 1995. Together we establish the winemaking protocols, aging, and style of Keenan wines. This outstanding combination of skill, long-term commitment, and meticulous attention to detail is the key to producing wines that reflect a more natural and balanced style. We prefer a conservative, minimal approach that allows the true varietal flavor to stand out in each of the wines we produce
About The Wine

2013 Merlot Napa Valley
Vinous / Antonio Galloni - "Keenan's 2013 Merlot is powerful, intense and structured, especially for an entry-level offering. Leather, smoke, tobacco and anise are all pushed forward in a savory, complex Merlot that offers plenty of nuance as well as personality. Hints of menthol and sage add further notes of complexity. A serious Merlot, the 2013 has enough depth to drink well for a good handful of years."
Meet Michael Keenan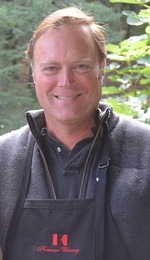 Michael Keenan is the owner and president of Keenan Vineyards and Winery. Michael assumed leadership of Keenan in 1998 and heads up a small, but nimble team of dedicated individuals, all of whom have worked continuously at Keenan since 1995. Introduced to the pleasures of wine at home as a young boy, Michael was eager to learn about winemaking. In the early years at Keenan, he honed his winemaking skills "on the job," under the leadership of his father Robert Keenan, and renowned winemaker Joe Cafaro. Today, he works in concert with the team to make the best vineyard and winemaking decisions, as well as helping to explore opportunities to engage with visitors in the Keenan tasting room. While Michael accepts the responsibility for making the final decisions for each aspect of the winery, he believes Keenan's success can be attributed to the efforts of the winery's talented staff.