Save 10% by ordering 12 btls.

See our other products by clicking here. 12 bottles qualify for an extra 10% off. use code 12CASE at checkout

Red Thread

2014 Howell MountainRed Wine Blend

70% Cabernet Sauvignon, 15% Petite Sirah, 15% Zinfandel

Retail Price $65.00

Feature Price $49.99

Get one of each or mix & match any quantity click here

The Red Thread of Fate is an East Asian belief originating from an old Chinese legend. The story goes, that the gods tie an invisible thread around the ankles of those destined to meet in a pre-determined situation. In Japanese culture, it is said to be tied around the little finger. They say the two-people connected by the red thread are destined lovers, regardless of place, time, or circumstances. This magical cord may stretch or tangle, but never break.
ABOUT THE WINE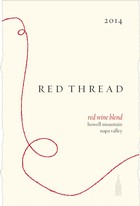 "Opaque deep purple color. Aromas and flavors of cassis pie a la mode, melted toffee, red clay, and maple with a satiny, vibrant, dry-yet-fruity medium-to-full body and a smooth, refreshing, medium-long cassis jam on toast, delicate spices, vanilla roasted nuts, and cedar finish with fine, dusty tannins and moderate oak. A very supple and elegantly styled Howell Mountain cabernet."
MEET THE WINEMAKER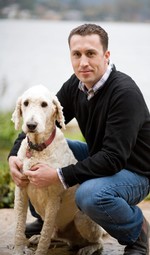 Brian Brakesman
Brian's family has owned and operated a winery on Howell Mountain for over 45 years. Everything he has learned and absorbed from growing up on property has now come full circle to create Gretchen and Brian's brand, Red Thread Wines. Estate grown, produced and bottled at the winery, they keep their finger on every part of the process.