Peek inside our wine cellar mix 12 bottles and get an extra 10% off. use code 12CASE at checkout Click here for all products

Rancho San Miguel Winery

2012 Starr Vineyard Old Vine Zinfandel

91 pts.| VF

Retail Price $40.00

Feature Price $29.99

To the Northwest of the Mayacamus Mountain Range that edge the Napa Valley lies the famous Russian River Valley. The Russian River Valley has been garnering a lot of well deserved attention as of late. Prepare yourself for magic with this brilliant, garnet-colored Zinfandel from Rancho San Miguel Winery. Zinfandel that Mike Adair is producing from Starr Vineyard is one of the oldest single vineyards in the Russian River and is producing FABULOUS wine. Mike was able to fly under the radar for some time but his consistent high ratings and reviews are putting him on the map. We snagged the last cases of his 2012 Starr Vineyard Zinfandel which received a Gold Medal and was rated 93 Points
About The Wine

Great news: Our Old Vine Zin has received another prestigious award: [WineComp_thumb]
Los Angeles International Wine & Spirits Awards:
Rancho San Miguel
BEST OF CLASS, GOLD MEDAL – 93 Points
The 2012 vintage release of Rancho San Miguel Winery Old Vine Zinfandel Starr Road (BLOCK 5) Vineyard Zinfandel raises the bar for this classic, bold and fruit forward style wine from this legendary Russian River valley old vine vineyard, planted in 1920. This exclusive old vine vineyard is home to some of Sonoma County's top Zinfandel wines.
The 2012 vintage Zinfandel shows a brilliant garnet red stone as it reflects in the glass, with a deep core, bright raspberry, soft, smooth, dark cherry, and a bit of Italian plum. As this wine sits in the glass it will open up to show mocha notes, a bit of fig and vanilla and a slight mild spice. The over all mouth feel is soft and silky. The balance on this wine is not to be missed. Drink now through 2021.
Meet Mike Adair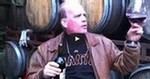 Owner / Winemaker
Michael Adair has worked in the wine industry for more than a quarter century. Emmersed in the wine culture, each year he strives to bring wines to the table that are true expressions of the vineyard. Zinfandel holds a special place for Mike. These small-block vineyards of highly sought after fruit produce exciting wines that he knows you will love. Rancho San Miguel continues to operate as a small winery of friends and family dedicated to the passion of wine.