Que Sirah Syrah

2 bottle pack of Napa Valley Sirah / Syrah

Spellbound Petite Sirah & Hagafen Syrah

Avg Retail Price:$77.00

Sale Price: $63.00

The Holidays are here....and so the countdown begins. At VinFormant, we have more to offer than at any other time of the year. Now is the time to begin shopping, that is unless you are a glutton for line-up punishment in the last few weeks of this Holiday craze. Starting tomorrow you have exactly two weeks left to search and acquire any of our top 12 twelve wines from 2013. Come on people, get out there! Click the link in our wine offer section to see all of our gift packs. Remember, we will include gift wrap on our featured wine offers and every order for 6 bottles will include ground shipping! All orders placed by December 19th will arrive by the 24th.
---
Our Top Holiday Gift Packs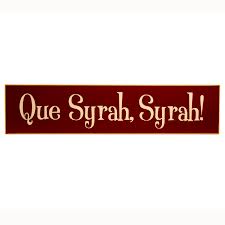 Pinot Lovers - 2 bottles of Sonoma Coast Pinot Noir
Napa Classics- 6 bottles of the top wines in Napa Valley
Dynamic Duo- Cakebread Sauvignon Blanc & Olet'te pinot noir
ZinFanAtic- 2 bottles of your favorite California Zins
Napa Valley Wine and Chocolate
The Chefs Collection- Pinot Noir, Olive Oil and Spices from Napa Valley
About the Wine

We love the Spellbound Petite Sirah with food, and drinking a glass with family and friends over a good meal truly brings this wine to its destiny. With Petite Sirah I enjoy nearly anything with bold flavors; aged grilled beef with olive oil and rosemary or even savory wild boar with polenta and mushrooms. We have also discovered great pairings with dishes like roasted quail, spicy Italian sausage, and my favorite: southern style BBQ.