Join Gold 90 Wine Club!

See what other wine gems we keep in the cellar!





Pure Cru

2012 Pinot Noir Napa Valley

Reg. Retail $36.00

Feature Price $29.99

Ground shipping included with 6+ btls

Three wine lovers from the central valley join an award-winning Napa Valley winemaker to found pureCru, a winery producing small quantities of unique blends. "I had been reminiscing about a small, hands-on entity where I could do it all myself again, like I did in the beginning." Mitch CosentinoCelebrating 30 years of winemaking and with more than a t housand awards to his name, Mitch Cosentino is making another dream come true with his launch of pureCru Napa Valley.
---
About The
Wine

2012 Pinot Noir Napa Valley
Spices and floral notes intertwine with red fruit in a very seductive manor seemingly as only Pinot Noir can be. This wine has a pure core of fruit with excellent balance that keeps it alive throughout in a way that doesn't pander. It stands up very nicely to many food types.
Hand punched cap fermented in one ton lots. Aged in French oak barrels for 11 months (50% new) on the original lees that were occasionally stirred.
Meet The Winemaker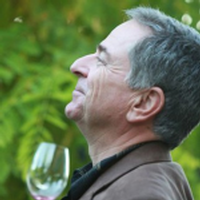 Mitch Cosentino
Cosentino began making wine in small lots in Modesto, California in 1980. Ten years later he moved the Cosentino Winery operation to the Napa Valley, where he continued to make many award-winning varietal and blended wines.
Cosentino has a gift for identifying fruit sources and is highly skilled and artistic in determining blends. He's a big believer in the hands-on, old world use of punched cap fermentation, a labor-intensive, hand-crafted method of winemaking. When it comes to the small lots Cosentino puts into his pureCru blends, this "micro" approach to winemaking allows him to better control the delicate process from the vineyard to the bottle.