Ground shipping included with 6+ bottle orders. Owners to sign case orders



 

Portalupi

2013 Old Vine Zinfandel

Dolinsek Ranch Russian River Valley

90 Points Wine Enthusiast

Regular Price $48.00

Feature Price $38.99

Portalupi Winery began many years ago in a small coastal town in Northern California where Tim Borges and Jane Portalupi first met as children. Destiny prevailed, they reunited in 2001 and were married. With Jane's background in retail marketing and Tim's 35 years of experience in winemaking in California, they decided their talents were the perfect complement to start Portalupi Wines. Portalupi Winery's first release was in 2002 with a long-term goal to deliver exquisitely crafted wines worthy of their generation's history of Italian winemaking.
Their inspiration comes from their Nonna, Marina Portalupi, who immigrated to Northern California from Piemonte, Italy. She brought with her more than just her knowledge of winemaking. She also brought along the traditions and beliefs of how wine was meant to be enjoyed regularly with friends and family. Each wine in the Portalupi portfolio is made with the passion and a love of bringing people together to enjoy the simple things in life. Tim and Jane believe that all of life's problems can be solved with great food and wine. Portalupi is a tribute to the original intent of the Cal-Ital lifestyle established by their Italian ancestors when they settled in Northern California.
Since 2002, Portalupi has grown their portfolio of wines to include Italian as well as traditional wines with a focus on Zinfandel, Barbera, Pinot Noir, Charbono, and Vermentino. Portalupi strives to maintain a portfolio of small artisan growers who share their passion of expression and they intentionally make wines that capture the essence of each appellation.
---
About the Wine

2013 Old Vine Zinfandel Russian River Valley
90 Points Wine Enthusiast
Dolinsek Ranch, a magical vineyard planted over 104 years ago by the Frati family, has produced outstanding wines throughout this century. The soil is a rich sandy-Goldridge loam and is located just off the famous Laguna Road in Russian River Valley. Jim Dolinsek, owner and grower, had the chance to purchase the property 19 years ago and since then, has meticulously cared for each and every vine with a passion. The 2013 vintage shows elegance and length, medium tannins, coupled with lush liquor like berry fruit and white pepper for a truly unique sensory experience. Superb with grilled meats and sharp, earthy cheeses.
The 2012 Vintage won a Gold Medal Winner, 2014 North Coast Wine Challenge and a Gold Medal Winner at 2014 San Francisco Chronicle Wine Competition. The 2011 vintage won Best of Class at the 2013 San Francisco International Competition.
Meet The Winemaker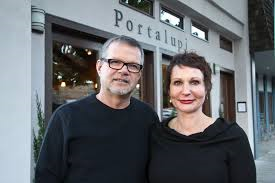 Tim and Jane Borges
Tim Borges, winemaker for Portalupi, has run the gamut of the premium wine industry for over 30 years. Tim's goal in winemaking is to produce flavorful, intense wines that define the Portalupi style. He brings his art and craft to each and every vintage and is most known for his award winning Zinfandels and Barbera. Every wine is bursting with flavor and the intensity is part of a greater balance. The style is "less is better" and a true expression of the terroir and varietal.
To continue to bring award winning wines to the market, Portalupi has remained small and responsive. You can look forward to the only the very best from Portalupi!