Ground Shipping with 6 bottle purchases.




Domaine Carneros

2006 "Le Reve" Sparkling

Regular Price $99.00

Today's Price

$59.99

Founded by the noble family behind Champagne Taittinger, Claude Taittinger's search for a worthy U.S. counterpart began in the late 1970s. In 1987 he selected a 138-acre parcel in the heart of Carneros, Napa Valley. Wisely selecting Eileen Crane to oversee the development of the winery and vineyards, the team created the quintessential California expression of the Taittinger style in Carneros.
The heart of Domaine Carneros has always been sparkling wines, with distinctive styles ranging from the classic vintage-dated Brut cuvée to our luxury Le Rêve Blanc de Blancs. In 1992 we added rich, complex Pinot Noir to our portfolio and our passion for sparkling and still wines continues to grow. Learn about sparkling winemaking and Eileen Crane, Pinot Noir winemaking and TJ Evans, and our portfolio of wines.
---
About the Wine

Le Rêve is a classic tête de cuvée - our winery's finest Blanc de Blancs sparkling wine. French for "the dream," Le Rêve is crafted from 100% estate-grown fruit, making it a pure expression of Domaine Carneros.
The sixteenth vintage in the history of this distinguished wine, 2007 Le Rêve is perhaps the best we have ever made. The highly praised vintage began very early, with bud break in mid-March. Crop and cluster size were small, resulting in great intensity from the first fermentation. Five distinct clones of Chardonnay impart nuanced aromas and flavors, while five and a half years of aging in the bottle on the lees has heightened the wine's richness and complexity.
Meet The Winemaker
Eileen Craig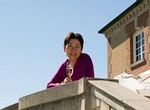 Eileen Crane is widely regarded as the doyenne of American sparkling wine – the most respected woman in her field, and is active in numerous wine organizations and local health non-profits.
"Let me tell you the story of Domaine Carneros," says Eileen. "Founded by the Taittinger family of Reims, France, Domaine Carneros is first and foremost a sparkling wine house, and with a heritage as distinguished as that of Champagne Taittinger, it's no surprise all of our sparkling wines are produced using the exacting méthode champenoise or traditionelle. And like Taittinger, our cuvées focus on the elegant and long-lived Chardonnay.