6 bottle orders include ground shipping and 4 tasting passes to Vermeil


 

Vermeil

2009 XXXIV Proprietary Red Blend, Napa Valley

Avg. Retail 42.00

Feature Price: $33.95


Richard A. "Dick" Vermeil was born in Calistoga, the northernmost town in the Napa Valley. His great grandfather on his mother's side, Garibaldi Iaccheri, had owned a large vineyard and his paternal great grandfather, Jean Louis Vermeil, made the family wine. Vermeil took up wine-making as a hobby in 1999, using grapes grown on the land that his great-grandfather once owned, which has passed to the Frediani family. The first vintage of Jean Louis Vermeil Cabernet Sauvignon was corked shortly before the Rams won the Super Bowl. Vermeil's success in the NFL kept wine-making a hobby. But in 2008, after he retired from football, Vermeil and wine maker Paul Smith of Frediani Vineyard decided to upgrade wine-making from hobby to business. Coach Vermeil's accomplishments in the wine world are now nearly as impressive as what he did in football. After football, wine is and has always been Vermeil's biggest passion. Football fans will know him from his successful stints as head coach for the Philadelphia Eagles, St. Louis Rams and Kansas City Chiefs.
---
Meet The Winemaker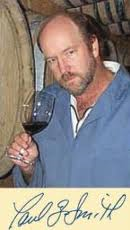 Paul Smith
Crafting Vermeil Wines is our talented winemaker and OnThEdge Winery founder, Paul Smith. Paul earned his degree at CSU-Fresno in enology-viticulture and has over 30 years of experience in the wine field. He has held technical and management positions with companies including Joseph Phelps Vineyards and Robert Mondavi Corporation. During Paul's 17 years with Mondavi, he was responsible for the technical development, facility design and project management of several internationally recognized, state-of-the-art facilities, including Opus One.
About the Wine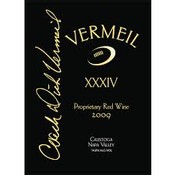 This offering is an extraordinary dark purple-blue-black wine. Breathe in deep for the captivating aromas of ripe plums with a hint of green olive and crushed black pepper. The spell continues with a long, grippy finish. This wine is wonderful now, and if you can muster the patience to wait through a couple years of cellaring, you will be rewarded with a mature smoothness that you will absolutely love. Double Gold - 2012 San Francisco Chronicle Wine Competition.