Join Gold 90 Wine Club!

Add the "Be My Valentine Gift Set" Includes a box of Chocolate Truffles, gift wrap and Card





Saddleback Cellars

2006 Merlot Napa Valley

Reg. Retail $42.00

Feature Price $32.00

Ground shipping included with 6+ btls

Located in the heart of Napa Valley, Saddleback Cellars was founded by acclaimed winemaker Nils Venge. Nils got his start in Napa Valley in 1970 and has been creating award winning wines at Saddleback since 1981. He is known as the "King of Cabs" due to being the first American to receive a 100 point score from wine-critic extraordinaire Robert Parker Jr. for making a 1985 Cabernet Sauvignon.
Saddleback sits on Money Road, a dead-end lane in Oakville, a renowned Cabernet growing A.V.A. (American Vinicultural Area). Our first love is Cabernet Sauvignon; although we make a variety of wonderful wines both from our estate vineyard in Oakville and from around the valley. Some of these include; Chardonnay, Pinot Blanc, Pinot Grigio, Merlot and Zinfandel – and even smaller lots, made especially for our Posse Wine Club, which include: Marsanne, Grenache Blanc, Charbono, Petit Verdot and Cabernet Franc to name of few
---
About The Wine

2006 Saddleback Cellars Merlot Napa Valley
A hedonist's dream! This delicious, concentrated wine has aromas of black currants, ripe plums, dark cherry licorice, and cocoa. It has a silky full bodied entry on the palate, with tamed/controlled tannins, plenty of sweet oak, and a luxuriously long finish. With proper storage, this wine will age admirably for ten years, however, we feel it is drinkable now. Great with a juicy T-bone steak.
Robert Parker's Wine Advocate
Good minerality, crisp red currants and citrus emerge from this fresh, lively, medium-bodied 2013 Chardonnay. (RP) (10/2014)
Meet the Winemaker:
Nils Venge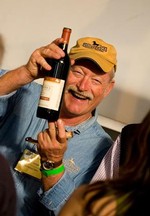 Known as "The King of Cabernet," legendary winemaker, Nils Venge, has been making stellar Cabernet Sauvignon, along with many other varietals in the Napa Valley since his arrival in 1970. Nils' philosophy on making wine is that it must reflect the best qualities that the varietal has to offer; sometimes a single vineyard, sometimes a single appellation, or a blend of appellations to make the best wine in a particular vintage. Despite his reputation as "The King," Nils is a down-to-earth, cheerful, full-of-life kind of guy whose wines not only reflect the character of their region, but also seem to reflect his personality – bold, yet approachable, friendly and fun yet with layers of complexities.