At R&B Cellars, we believe that wine-making is as influential and powerful as music. It should be inspiring, full of passion, and have the ability to bring people together to celebrate life, happiness, and community.
Located in the East Bay of San Francisco, owners Kevin and Barbara invite you to come to their new winery and tasting room in Point Richmond to experience the combination of delicious wines and great music in one of the greatest communities in the area. Tasting room opening in early 2015.
---
About the Wine

methode champenoise "chanson des etoiles"
Chansons des Etoiles means "Song of the Stars"
97 points JWP Gold Medal- OC Wine Competition
Crisp and bright, with very fine bubbles; a classic Methode Champenoise, with just the right yeasty and creamy notes to be reminiscent of the finest champagnes from France. Perfect on its own, or match with a myriad of lighter fare. Pop the cork and celebrate!
The Wine: The Pinot Noir and the Chardonnay were fermented in separate lots and upon completion were blended together to create the base "assemblage". Secondary fermentation took place in the bottle and was on tirage for 10 months. After disgorgment, the final dosage was added and it was given its final cork and basket and laid down to rest.
Meet The Owner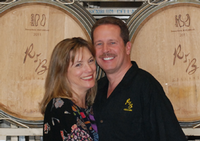 As lifetime musicians, Kevin and Barbara understand that like music, wine is something you create to be shared with the rest of the world and enjoyed by others, which is why they offer several different varietals and price points for different styles, tastes, and personalities.