Join Gold 90 Wine Club!

Peek inside our wine cellar and see what we have been collecting

DENNEN

Charistmatic Fool Sparkling Rose North Coast

91 Pts. Wine Spectator| 6+ bottles will include ground shipping & a signed collector label from Brett Dennen

Feature Price $32.00

countdown

6+ bottles includes ground shipping

I am excited to announce my project DENNEN WINES with JWTHOMAS. During my years of touring, I've met numerous inspiring winemakers from all over the world. It has always been a dream of mine to join them and make my own wine that represents who I am and my personal tastes. Dennen Wines is a continuation of the brand that I have built as a musician, with the legs to take us where music cannot go.
Wine has long been the companion of the artist, no matter the poet or the painter, from Rumi to Renoir. Aside from love and pain, it's been the ultimate source of inspiration for my songwriting and painting. As flavors change with each sip, they inspire different words, thoughts, colors, and emotions. When I write songs or paint, my goal is always to inspire people. To play a role in the journey of changes life presents. I approach wine with the same intentions. Each varietal and vintage will be created with all of my heart. - Brett Dennen
About The Wine

Charismatic Fool Sparkling Rose
Why Rosé: "Celebrate Being Alive" For the last several years, I've been obsessed with Rosé. It's light and subtle, yet still festive and elegant. Charismatic Fool is a wine for all occasions: brunch, cocktail hour, a celebration, a meal, a warm summer day or watching a sunset. I made Charismatic Fool as a sparkling rosé, as a reminder that life is a celebration. To steal my own lyric, "We need to celebrate being alive." This is a memorable wine that I know you'll enjoy and want to share with your friends. It's refreshing, earthy, and has a hint of sweetness. - Brett Dennen
Meet The Vintner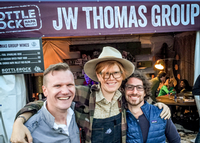 Brett Dennen & JWThomas Wines
J.W. Thomas Wines utilizes over 60 years of family winemaking experience to produce sustainably farmed, limited production wines with influential partners. We've built powerful and lasting relationships with consumers, the wine industry, and media through consistency, honesty, and providing award-winning wines with authentic stories.
Wine lovers and media have celebrated their wines, and they utilize sustainable farming techniques on all of their limited production wines. In addition to the next vintages of their current wines, J.W. Thomas has new wines in the works and is always vetting new projects and targeted partners.