Ground Shipping included with 6 bottle purchases




Burgess Cellars

2010 Cabernet Sauvignon Napa Valley

92 Pts. W.E

Regular Price $42.00

Today's Price

$33.99

Burgess Cellars is a stone and redwood mountainside winery which was originally started in the 1880's. It's adjacent vineyards support the belief that it is vital to grow only those varieties of grapes which are best suited to the particular aspects of that land; such as soil, exposure, and climate. That is why the Cabernet Sauvignon, Cabernet Franc, Merlot, and Zinfandel are planted in the winery's mountain vineyards.
The worldwide reputation of Burgess wines lies in the fact that they are always in perfect harmony, fully integrated to form a "total impression". Maximum varietal character, firm oak, good body, and long, complex finish are stressed. These attributes are controlled through painstaking attention to the estate vineyards and labor intensive old world winemaking techniques; all brought together with the most modern technology.
---
About the Wine
2010 Estate Cabernet Sauvignon Napa Valley

92 Points - Wine Enthusiast
The grapes come from the winery's estate vineyards on Howell Mountain, and you can sense the mountain intensity, both of tannins and fruity concentration. The flavors are impressive, suggesting black currant and mocha, with a minerality that grounds the wine. The tannins will help the wine evolve until 2020–2022, but you can drink it now.
— (6/1/2014) — 92
Meet The Owners
The Burgess Family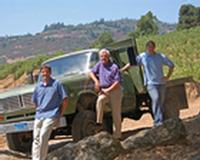 Jim, Tom & Steve Burgess
Family owned and operated winery since 1972.

When Tom purchased the 1870's era winery in 1972 he established himself as a pioneer of mountain side wineries. At the time, there were only approximately 2 dozen wineries in operation in the whole of Napa Valley and he saw the potential of mountain vineyards to produce wines that evoke the French concept of terroir: that the grapes, and thus wines, should reflect the vineyard's soil, exposure, and overall micro-climate.