Ground shipping included with 6 bottle purchases.




Saddleback Cellars

2010 Cabernet Sauvignon Oakville Napa Valley

90 Points Robert Parker Jr.

Regular Retail $72.00

Feature Price $56.99

Located in the heart of Napa Valley, Saddleback Cellars was founded by acclaimed winemaker Nils Venge. Nils got his start in Napa Valley in 1970 and has been creating award winning wines at Saddleback since 1981. He is known as the "King of Cabs" due to being the first American to receive a 100 point score from wine-critic extraodinaire Robert Parker Jr. for making a 1985 Cabernet Sauvignon.
The Oakville A.V.A. (American Viticultural Area) lies in the middle of the valley and is well known for its stunning Cabernet Sauvignons. Our first love is Cabernet Sauvignon and it is the focal point of the winery; although we make a variety of wonderful wines both from our estate vineyard in Oakville along with many small lots of varietals from Napa that include: Chardonnay, Pinot Blanc, Pinot Grigio, Merlot and Zinfandel – and even smaller lots, made especially for our Posse Wine Club, which include: Marsanne, Grenache Blanc, Charbono, Petite Sirah, Petite Verdot and Cabernet Franc to name of few.
---
About the Wine

2010 Saddleback Cabernet Sauvignon
Deep colored, heady aromas of ripe black cherries, peppery spice rack, and cigar box are emitted from this wine's fragrant bouquet. Provocative, aromatic displays of ripe berries layered over rich velvety tannins produce an impeccable multi-layered mouthfeel. Elegantly compliments grilled steak, braised short ribs, rack of lamb and aged cheese such as Blue, Brie and Camembert.
Ratings 90 Points Robert Parker Jr.
"Good bright red-ruby. Sexy, aromatic nose combines blackcurrant, violet, graphite, bitter chocolate and spearmint oil. Tightly wound and youthfully medicinal, with a flavor of kirsch dominating the middle today. Finishes savory, dry and very long, with big, palate-saturating tannins. A small percentage of these barrels are from Virginia oak."
Meet The Winemaker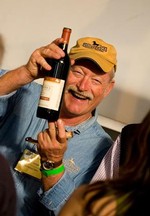 Saddleback Cellars was established in 1981 in the heart of the Napa Valley by Nils Venge. Nils Venge is universally regarded as one of the foremost pioneers of the Napa Valley wine industry.
Born to Danish immigrants, Venge's exposure to wine came at an early age: his parents operated a wine and liquor import and distribution company in Southern California. Venge continued his pursuit of wine at the University of California in Davis where he earned a BS in Viticulture in 1967.
Following a tour of duty in Vietnam as a Navy Reservist, Venge moved to the Napa Valley to pursue his interest in winemaking. In the subsequent years, Venge worked for notable wineries, such as, Charles Krug, Sterling, Villa Mount Eden and Groth. During his tenure at Groth, Venge became the first American winemaker to receive a perfect 100 point rating from Wine Critic Robert Parker Jr. The 1985 Groth Reserve Cabernet Sauvignon catapulted Venge to a venerated position in the California wine industry.