Peek inside our wine cellar mix 12 bottles and get an extra 10% off. use code 12CASE at checkout Click here for all products

Wicker Vineyards

2008 Cabernet Sauvignon Napa Valley

Feature Price $79.99

Wicker Vineyards Cabernet Sauvignon is produced from our vineyard located on the western slopes of Howell Mountain overlooking Napa Valley. Aged 18 to 20 months in French oak, we are holding these incredible wines for release until they start to open up in the bottle. The WOW! exclamation when tasting our late released Cabernet for the first time is a testament to the vineyard, the winemaking skills of Dennis Johns, and to the extended time in bottle. These complex and silky textured Cabernets will delight your senses with the fullness of ripe black fruit flavors and a potpourri of aromas from tea leaves, sweet clove, orange peel, mint, cocoa and leather. The long sweet finish will leave you longing for another sip. Our Cabernets exhibit an elegance not often found in Howell Mt. wines.
About The Wine

2008 Cabernet Sauvignon Napa Valley
This lovely wine is dark crimson in color with enticing aromas of dusty plums, wild cherries and candied violets. Its flavors are rich with red currants and cherries, hints of cassis, cocoa and nutmeg. This is a BIG Cab and is not for the light of heart. The tannins are well integrated and a luscious mouth-feel complements its firm structure and moderate alcohol. With both power and elegance, it promises many years of enjoyment
Meet The Winemaker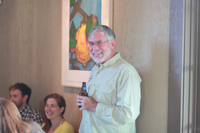 Ron Wicker
Ron Wicker and his wife, Lisa, only make about 200 cases of this Howell Mountain wine a year, and it's not Ron's only job (he owns a vineyard management company here in the valley, which means he takes care of other peoples' vines.) But over the years he has grown some grapes of his own, and more recently has even sourced fruit from the Carneros AVA for some Chardonnay.