2018 Patland Proprietary Red Wine Napa Valley
Stagecoach Vineyard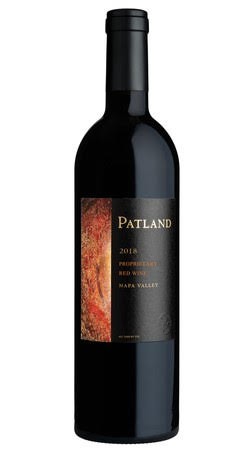 As powerful and complex as you'd expect of a Napa Valley wine, and as elegant and integrated as any Patland wine ever produced. Aromas of rose petal, cherry cola, and baker's chocolate entice the senses. On the palate, this wine boasts of ripe black fruit flavors, including black cherry, black plum skin and cassis. The finish is one of tempered oak flavor, with a hint of burnt sugar and caramelized meat. As a whole, this wine is a crescendo of intense flavors coming together to merit a standing ovation.
54% Cabernet Sauvignon / 22% Syrah / 14% Malbec / 10% Petit Verdot
Product Reviews
Natalie
(Mar 24, 2022 at 11:07 AM)
Super yummy wine. Really ripe fruit. Classic Napa style, but more approachable than the Patland Cabernets. Doesn't need to be held as long. Usually a crowd-pleaser at dinner.
Robert
(Mar 24, 2022 at 11:48 AM)
I've been drinking this wine for years and the 2018 vintage is particularly stunning! If you haven't tried Patland wines before, this is a great one to begin with.
Jacob
(Mar 24, 2022 at 12:02 PM)
I am a huge fan of this cab blend from Patland. It is a rich and complex wine that doesn't knock you over with excessive tannins. This is a perfect bottle for dinner with friends, everyone will enjoy it!
Eric
(Mar 24, 2022 at 12:37 PM)
I have been drinking and collecting Patland wines since the first vintage in 2007. This 2018 is outstanding in flavor, complexity and balance. It's drinking great now but I'm looking forward to how it evolves over the next 10+ yrs.