OLETTE VALENTINES DAY PINOT AND TOFFEE GIFT PACK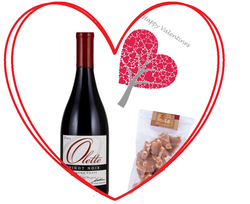 How do I love thee? Let me Eat and Drink thy ways!
Nothing says I love you more than a Pinot and Toffee pairing. Our Olet'te Sonoma Coast Pinot Noir comes wrapped in a logo wine bottle jute bag with cellar tags and an optional Valentine's Day Gift Message. Life should be like a box of Rosemary'sToffee and Olet'te Pinot Noir, you always know what you're gonna get… scrumptiously rich Guittard dark chocolate and fresh roasted almonds combined with simple, quality ingredients to create an elegant gift for any occasion. Who will you share this Pinot and gourmet almond toffee with?