January 27, 2010 | JD DANIEL
Hendry Primitivo & Hendry Block 7 & 22 Zinfandel – The same grape?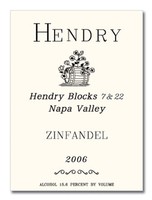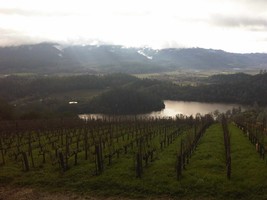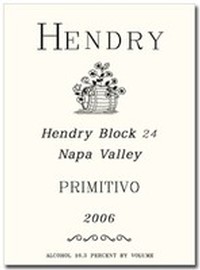 Yesterday the Napa Valley Vintners hosted an alternative reds tasting at Viader Vineyards for a Canadian Sommelier Group. Our winery along with 6 others poured the alternative reds that we produce in Napa Valley. After the Canadian group left we were free to taste each other's wines and compare them. It's a rough life I know!! We work hard in this industry and we sure do like to play hard too!
I was excited about the walk around yesterday because Hendry Winery brought their primitvo and Zinfandel. We ended up discussing the history of the two varietals and their differences. According to the ATF (Alcohol, Tax and Trade Bureau) they are similar enough to be considered the same grape. The differences between the two grapes are really not that cut and dry and it depends who you ask if you want to know whether or not they are the same grape. The last winery I worked for grew Primitivo but called it Zinfandel once it was in bottle. The representative at Hendry told me that the Primitivo they bring in from their vineyards is a much smaller grape, it comes in a bigger less dense cluster and even the color of the grape is more intense. It also ripens earlier then Zinfandel.
After tasting the Hendry Zinfandel and Primitivo it becomes quite evident that no two wines are truly created equal even if they are almost an exact clone of each other. The Hendry primitivo has beautiful aromatics that are much like that of Zin. However, much to my surprise the flavor profiles of the two are very distinct.
The 2006 Hendry Zinfandel Block 7 & 22 is a classy little thing as far as Zinfandel goes. It has vibrant aromatics of chocolate and dried cherries. It has a juicy mid palate and luscious mouth feel. It has the red raspberries laced with chocolate and white pepper that are so classic for Zin. It is also nicely balanced and doesn't slap you in the face with tannin and alcohol (like many California Zin's do)
The 2006 Hendry Primitivo is a more masculine wine. I think the main differences are the tannins and acidity. Even though they are a bit harsher there seems to be less tannins and more acidity then the Zinfandel. The Primitivo has more floral notes and I like that it has a very distinct violet aromatic. The Primitivo showcases cinnamon, white pepper, black pepper and bright red fruit. The Primotivo seems to be a little more in your face then then its long lost twin.
This comparison would be a really fun tasting for you and your friends to try. Zinfandel and Primitivo are the only two separate varietals that I can think of that are this much of a genetic match. I was somewhat surprised that the two wines were so different & I think you will be too!
To learn more about the Hendry Wines and the differences between Zinfandel and Primitivo please visit www.hendrywines.com