February 9, 2010 | JD DANIEL
Pasadena Pinot Festival!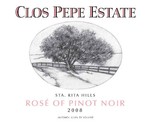 With a title like that you would think I would be writing about Pinot Noir. Well… You are right, but not in the traditional sense. I want to give a quick toast to Wes Hagen of Clos Pepe Vineyards, not only does he make wonderful Pinot Noir and Chardonnay with tremendous Acidity and Character, but he also makes a Pinot Noir Rosé that will knock your socks off. So instead of discussing any of the traditional Pinot Noir at the tasting I would like to delve into the intricacies of the most intriguing wine at the tasting, 2009 Clos Pepe Estate Rosé of Pinot Noir.
Clos Pepe, a 29-acre family owned winery and vineyard, is divided between 25 acres of Pinot Noir and 4 acres of Chardonnay. The yields from the vineyard range from 1 – 2 tons per acre which is a tiny amount, so small that it is less than half of yields allowed in Burgundy's Grande Cru AOC system. The farming is outstanding, producing low yields of extremely high quality. The soil is driven by minerality with large deposits of Calcium and Calcareous Shale.
Out of the many Pinot and Chardonnay that I have tried, there are few vineyards that I can say, "I have never had a bad wine from this site". Well, Clos Pepe is one of those vineyards. If you have never experienced this vineyard, quickly run to your wine shop and find any bottle that carries the Clos Pepe name. Then sit back, savor the wine, enjoy some food, and maybe share a little with friends.
Now back to that Rosé… This pink wine has backbone with plenty of acidity and bone-dry. This is not your grandma's Rosé. This is a food pairing wine, with enough acid to pair with crab, sea bass, halibut, and an array of poultry (Pheasant would be my personal preference). Could be a nice apéritif as well, pairing this wine with a triple cream brie would be heavenly. The alcohol is nice and refreshing at only 12%, it is a wine that you can chill down and drink all summer long! The most amazing aspect, it's available via the Clos Pepe Estate website (www.clospepe.com) at only $23. Trust me, a great value that will not disappoint!