Every 3 bottle purchase will include A Personalized Father's Day Card, Napa Valley Spice Pack for grilling & Free Shipping!

Olet'te Wines

2011 Terra de Promissio Pinot Noir

Sonoma Coast

Avg Retail Price:$65.00

Sale Price: $55.00

According to Coastal Miwok mythology, Coyote "Olet'te" was thought as the creator and supreme Chief forming the Petaluma Gap from the Sea and its first known inhabitants. Today this area is home to some of the finest Pinot Noir grapes in California. This areas is defined by the wind gap formed at the opening of the coastal range heading east from the pacific ocean.
Planted to 32 acres of Pinot Noir, Terra De Prommissio Vineyard's phenomenally drained soils and high-density planting lead to the complex Aromatics and elegance that are characteristic of this Pinot Noir. Located on the Sonoma Coast this famous vineyard became widely known when James Laube named Kosta Brown's Sonoma Coast Pinot Noir "Wine Of the Year".

---
Meet The Winemaker
Alan Viader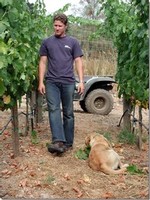 Since childhood, Alan has assisted in the vineyards at VIADER, primarily working during his summer vacation. Today he looks back fondly on those early summer mornings when he was responsible for manually clearing the piles of rocks from between the rows to allow the tractor to pass… In college, he formally pursued his interest in viticulture with a hands-on program in Sonoma and he learned the fundamentals of winemaking at UC Davis. There, he accumulated more knowledge and respect for the organic farming principles he grew up with at VIADER. Alan also spearheaded the biodynamic project with consultant Phillipe Armenier, integrating the biodynamic calendar and several herbal treatments to the vines and in the cellar with fervor. Alan has been managing the VIADER vineyards since 2002, but has worked in all areas of wine production, and also national sales. The following year in 2006, Alan started dedicating his time to both vineyard management and winemaking, and would later become the Director of Operations, responsible for the 2005 wines at VIADER. As Delia's right-hand, Alan has the opportunity of overseeing production from start to finish. And having inherited his mother's passion for winemaking and expressing the terroir. Alan has set out to find the best vineyards in California and beleives that from these vineyards he will create the finest wines in the world. He created the Olet'te brand to showcase premier vineyards and appellations in Northern California.

About the Wine
2011 Terra de Promissio Vineyard Sonoma Coast Pinot Noir
The cool 2011 vintage has yielded a lovely, aromatically driven expression of Sonoma Coast Pinot Noir marked by layered floral notes of rose, carnation and violet, as well as stunning bright red fruit and baking spice. On the palate, the flavors are vivid and pure, with red cherry and raspberry fruit supported by soft, yet enlivening acidity. The tannins are supple and subtle, adding to this wine's weight and velvety texture, with oak-inspired notes of cinnamon, clove and maple syrup contributing nuance and complexity. All of these elements lead to a long creamy finish, with melt-in-your mouth tannins. This is an exceptional food wine with fantastic acidity that will provide lots of pleasure in its youth.

Cases 100
PH: 3.46
Alc: 13.5%
Time in Oak: 11 Months (70% New French Oak)